Occlusal Disease Treatment – Portland, OR
Protect Your Teeth from Premature Wear and Tear
Occlusal disease is not often talked about, but it deserves much more attention than it normally gets. Over time, it can cause significant dental damage. In fact, occlusal disease can even lead to tooth loss! What can you do about this serious condition? Dr. Teasdale and our team are here to help. Using advanced dental technology and precise DTR therapy, we can adjust your bite with the goal of improving your symptoms and protecting your teeth from premature wear and tear with occlusal disease treatment in Portland.
Why Choose Evolution Dental for DTR Therapy for Occlusal Disease Treatment?
Treatment Guided by Advanced TekScan Technology
One of the Only Dental Practices That Offers DTR
Doctor with Over 40 Years of Experience
What Is Occlusal Disease?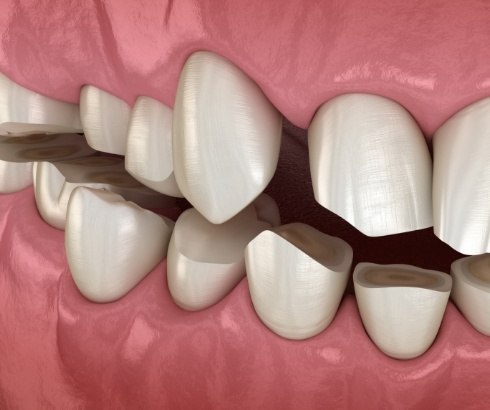 Occlusal disease is an unfamiliar term for many patients, but it is mainly a very aggressive and accelerated form of tooth wear. It is primarily caused by a misaligned bite, which forces the muscles of the jaw to overwork as they try to push the teeth into the proper position while biting and chewing. This leads to lactic acid buildup in the muscles, places strain on the jaw joint, and creates excess pressure that causes the teeth to shift, chip, and crack over time.
The Symptoms of Occlusal Disease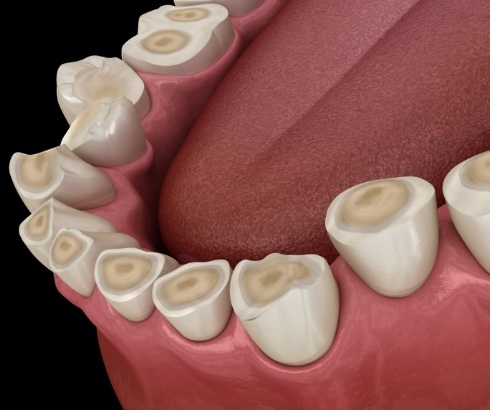 Occlusal disease is related to a wide variety of symptoms, with the most common ones being:
Persistent jaw pain
A jaw that pops and clicks when it moves
Lockjaw
Extremely worn down or chipped teeth
Loose or shifting teeth
Gum recession
Headaches
Neck aches
How We Treat Occlusal Disease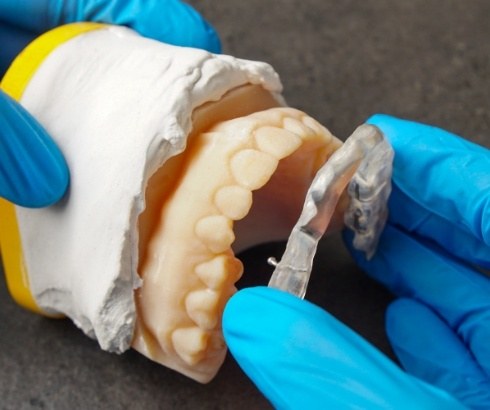 Like all such diseases, occlusal disease is best treated early on and directly at the source. We take the time to evaluate your case from every angle so that our eventual treatment recommendations are sure to provide long-lasting relief.
The first step to treating occlusal disease involves taking very precise measurements of the bite. At Evolution Dental, we use TekScan technology instead of traditional carbon bite paper to do this, as it gives us a much more accurate picture of how the teeth are coming together, in what order, and how hard they are touching. This helps us pinpoint the imbalances that are at the root of occlusal disease.
Once we can find the interferences that are preventing the bite from functioning properly, we can correct them using DTR (Disclusion Time Reduction) therapy, an advanced type of TMJ treatment in Portland. Small adjustments are made to the teeth and/or pre-existing restorations so that the bite comes together without triggering the jaw muscles to overwork. This allows the muscles to relax and function properly, leading to a healthier, more comfortable future for the patient!
When the bite has been corrected, we can then repair the damage that has been caused by occlusal disease. This may involve building the teeth up using veneers, bonding, and crowns to replace lost dental structure. By the end of the process, the patient should look and feel like nothing was wrong with their bite in the first place!
What Is the Difference Between an Equilibration and DTR?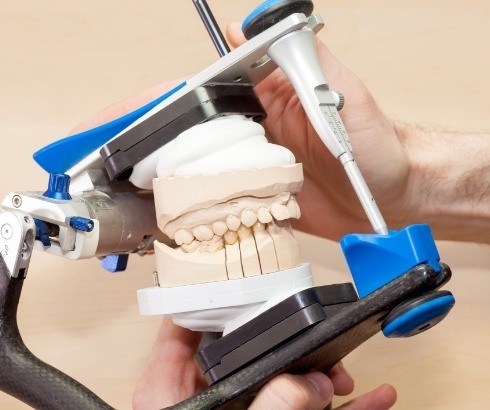 There is a huge difference. Equilibration is a procedure in which the dentist selects where they determine your jaw should be and then works to put your bite onto the back teeth. DTR, the polar opposite, works to direct the bite toward the front teeth, with the back teeth only touching when the mouth is fully closed. Study after study documents the far superior results accomplished by DTR while equilibrations have been performed for years with mixed results. Some traditions die hard—even in the face of something vastly more quantifiable and less subjective.
Start Feeling Better Today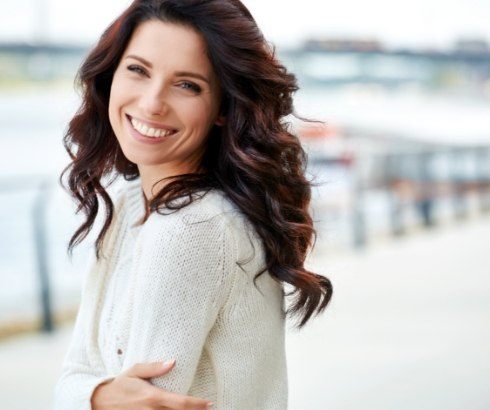 If any of the symptoms touched on above sound familiar, or if you have been struggling to fix chronic jaw/mouth pain in a way that actually lasts for far too long, then you can take your first step toward true relief by giving us a call today to schedule a consultation with our TMJ dentist in Portland. Dr. Russ Teasdale's extensive experience, use of the latest technology, and commitment to long-term solutions are sure to help you achieve the oral health and harmonious smile you desire.